This is an article by Paul Warren, originally posted on his LinkedIn account, where he explains his sister's story.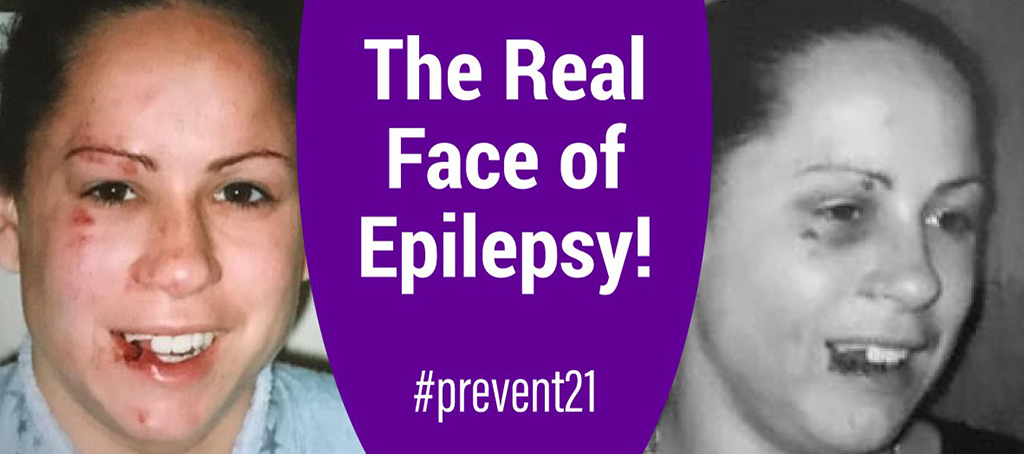 These are photos of my little sister, years ago after she had an Epileptic Seizure.
Why am I sharing this?.
Because so few people see the real face of epilepsy and the common perception is just that it's a rare condition where people wobble on the floor a little bit.
Nobody sees the threats to people's everyday lives. Supporting people with epilepsy isn't a fashionable charitable endeavour sadly so I am passionate about creating more awareness about how Epilepsy affects the life of sufferers and their friends and families.
My younger sister sadly passed away in her sleep a few months ago, but I am determined to use this tragedy in my sister's memory as a way of preventing other families from experiencing the same heartbreak, if possible. Or to create awareness so there is more compassion for current sufferers.
On the day that my sister gained these injuries she was in town shopping on a weekend like any normal Saturday, but she felt unwell so she went into a phone booth to call for help and the next thing she knew was that she woke up in hospital. She had broken her nose and shattered her front teeth, as well as splitting open her lip which needed stitches.
The doctors re-set her broken nose while she was in agony as she couldn't have medication to numb the pain because of her condition. They stitched up her split lip and cracked her nose back into position without any pain killers, she didn't cry or scream and she just thanked the medical staff. That was until they told her that they had set her nose into the wrong position and they needed to re-break it and reset it again.
Nicki had many many bad days like this and nobody truly understood the real impact of this condition and how it prevented her from leading a normal life. She couldn't drive a car, or have children, go on holiday with her friends, her boyfriends never hung around long, she remained living at home with our parents into her mid-30's as she was so scared all the time about having a seizure alone.
But like many brave sufferers she smiled throughout her struggles and never passed her worries onto others.
Epilepsy is a debilitating and potentially deadly condition that so few people understand yet one in 100 people in the UK live with this condition everyday and are suffering. My desire by posting and sharing this is for people to understand more about epilepsy and then we can help those suffering. Plus we have to reduce the number of fatalities also.
What are the facts?
Around 65m people worldwide have Epilepsy. But just in the UK alone there are around 600,000 sufferers. What's worse is that there are 21 deaths per week in the UK. If things continue 1,000 people will continue to die each year in the UK, leaving many people devastated by the death of a loved one. This must stop and SUDEP Action's #Prevent21 campaign aims to do this by taking action to save lives now.
Research shows that at least 42% of these deaths are known to be potentially avoidable. More can be done to prevent this tragedy via better risk communication and improved access to medication and services. SUDEP Action is spearheading research, education, and lobbying on tackling epilepsy deaths as well as offering specialist bereavement support to those families left devastated and confused.
How can we help?
There are some amazing fund raising opportunities via SUDEP the leading charity in this area: https://sudep.org/prevent21 but just being aware and giving compassion and care to people who are suffering from epilepsy is the biggest thing you can do.